XingSheng Sling Belt Group produce 100 Ton Lifting Sling,100 Ton Round Sling,100ton Heavy Duty Round Lifting Sling,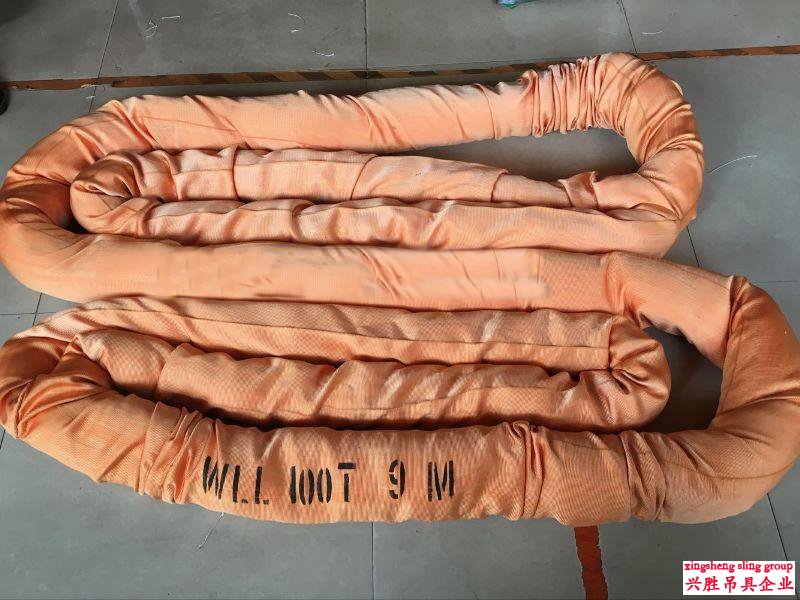 Round Slings are the most versatile lifting sling. These are constructed of high tenacity polyester fibres (PES) which are protected by a durable sleeve made of single ply polyester tubing.
Can produce standard Round Slings ranging from 1T to 10T Slings have a safety factor of 7:1 Printed WLL on sleeve (up to 10T) along with 1 stripe per tonne Colour coded for easy identification Superior weave construction ensures long life of product Available with a choice of wear sleeves for added protection at the load point Simply the most competitive solution in today's market Manufactured as standard according to EN1492-2
Australian & New Zealand AS 4497 and European EN1492-2 standard round slings requires traceable label on each polyester round sling. However,some times we are also required to provide normal label to dcrease the cost. we strongly advise the customers to use the traceable label on the round slings to totally comply with the AS 4497 standard. Bellow we just example out the two kind of labels we've ever produced before. Of course, we could produce other forma label to meet the customers' unique design requirements.