XingSheng Sling Belt Group manufacture Endless Round Sling,Endless Polyester Round Sling,Round Polyester Lifting Sling,Endless Round Lifting Sling,Endless Polyester Round sling.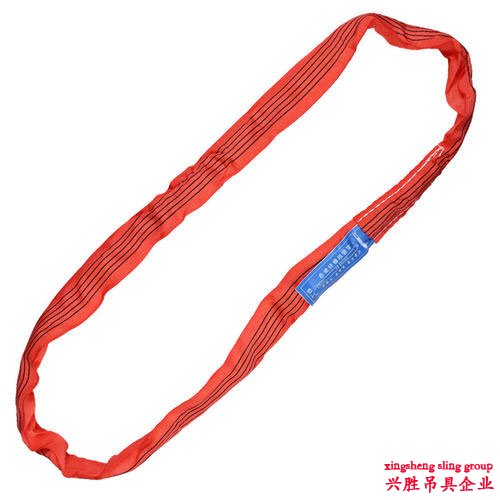 Round slings are endless in configuration and are constructed from endless yarns of 100% polyester fiber encased in a tough double wall polyester woven tube. Polyester round slings are superior in their ability to conform to the shape of the load and may be used in all three types of hitches.
Endless round sling offer the benefit of more even wear due to changeable load bearing points as compared to slings with eyes.
Endless Round Sling feature tough double-jacket construction, meaning the outside of the sling takes the abuse while protecting the inner load-bearing strands. Made from a continuous loop of 100% polyester, these slings boast a very high strength-to-weight ratio. They are pliable and easy to handle, and because they are soft and lightweight they help to reduce worker fatigue and injuries. Keep in mind that although these are endless slings, you still can perform all the same hitches, including a vertical, choker and / or basket hitch. Color-coded by capacity, which helps workers quickly identify the right sling for the job. And be sure to check out our new Round Sling Hooks that are color-coded for safe and easy use with your existing round slings
Endless Round Sling parameter
Type

WLL(Kg)

THick(mm)

Width(mm)

L(mm)

Weight(6:1)(Kg/m)

mini

max

LiftRH02-01

1000

15

50

1.5

80

0.33

LiftRH02-02

2000

16

60

1.5

80

0.47

LiftRH02-03

3000

18

70

1.5

80

0.68

LiftRH02-04

4000

20

80

1.5

80

0.85

LiftRH02-05

5000

25

90

1.5

80

1.06

LiftRH02-06

6000

27

90

2.0

80

1.28

LiftRH02-08

8000

28

100

2.0

80

1.59

LiftRH02-10

10000

29

110

2.0

80

2.10

LiftRH02-12

12000

30

125

2.0

80

2.60

LiftRH02-15

15000

31

150

2.0

80

3.16

LiftRH02-20

20000

32

180

2.5

80

4.89

LiftRH02-25

25000

34

200

2.5

80

6.15

LiftRH02-30

30000

68

220

2.5

80

9.51

LiftRH02-40

40000

75

250

2.5

80

12.45

LiftRH02-50

50000

86

270

2.5

80

14.40

LiftRH02-60

60000

126

280

4.0

80

18.00

LiftRH02-80

80000

138

300

4.0

80

23.10

LiftRH02-100

100000

152

320

4.0

80

27.10

LiftRH02-200

200000

230

460

5.0

80

65.90

LiftRH02-300

300000

310

535

5.0

80

80.90

LiftRH02-400

400000

380

680

5.0

80

100.2

LiftRH02-500

500000

410

760

8.0

80

123.5

LiftRH02-600

600000

460

830

8.0

80

147.5

LiftRH02-700

700000

498

880

8.0

80

170.9

LiftRH02-800

800000

520

940

10.0

80

194.8

LiftRH02-900

900000

580

1000

10.0

80

218.1

LiftRH02-1000

1000000

610

1060

10.0

80

241.6