XingSheng Sling Belt Group manufacture Eye and Eye Round Sling,Eye and Eye Polyester Round Sling,Eye & Eye Round Lifting Sling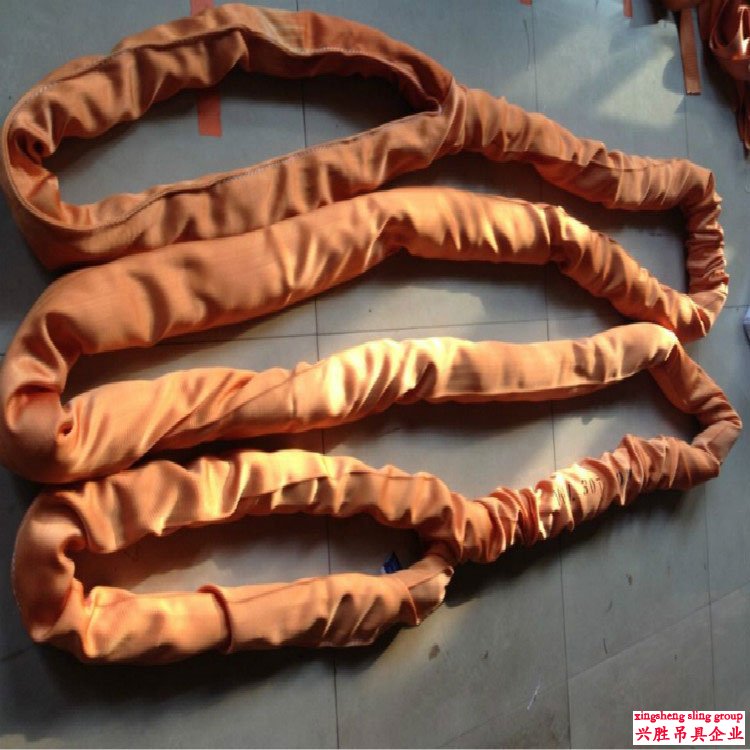 Eye & Eye Round slings are ideal where abrasion to the sling body is problematic. A tough, abrasion resistant nylon sleeve is sewn to the body forming loop or eye at each end.
Eye To Eye Polyester Round Sling are strong and versatile. They work exceptionally well in choker, vertical or basket hitches. These slings feature a jacket that covers the sling body forming a loop, or eyes, at each end. This construction makes polyester eye and eye round slings ideal for applications that expose the sling to additional wear and tear. Eye To Eye Polyester Round Sling are made with strands of polyester yarn enclosed in a tough two-ply woven tubular polyester jacket. jacket provides an additional layer of protection against abrasion. All round slings are color coated to indicated load capacity. They come with a durable tag for easy identification. Eye to Eye Round Slings are manufactured in EN 1492-2 standards. Polyester Eye and eye round slings are available in many strengths and sizes.
Eye and Eye Round Sling parameter
Type

WLL(Kg)

THick(mm)

Width(mm)

L(mm)

Weight(6:1)(Kg/m)

mini

max

LiftRH02-01

1000

15

50

1.5

80

0.33

LiftRH02-02

2000

16

60

1.5

80

0.47

LiftRH02-03

3000

18

70

1.5

80

0.68

LiftRH02-04

4000

20

80

1.5

80

0.85

LiftRH02-05

5000

25

90

1.5

80

1.06

LiftRH02-06

6000

27

90

2.0

80

1.28

LiftRH02-08

8000

28

100

2.0

80

1.59

LiftRH02-10

10000

29

110

2.0

80

2.10

LiftRH02-12

12000

30

125

2.0

80

2.60

LiftRH02-15

15000

31

150

2.0

80

3.16

LiftRH02-20

20000

32

180

2.5

80

4.89

LiftRH02-25

25000

34

200

2.5

80

6.15

LiftRH02-30

30000

68

220

2.5

80

9.51

LiftRH02-40

40000

75

250

2.5

80

12.45

LiftRH02-50

50000

86

270

2.5

80

14.40

LiftRH02-60

60000

126

280

4.0

80

18.00

LiftRH02-80

80000

138

300

4.0

80

23.10

LiftRH02-100

100000

152

320

4.0

80

27.10

LiftRH02-200

200000

230

460

5.0

80

65.90

LiftRH02-300

300000

310

535

5.0

80

80.90

LiftRH02-400

400000

380

680

5.0

80

100.2

LiftRH02-500

500000

410

760

8.0

80

123.5

LiftRH02-600

600000

460

830

8.0

80

147.5

LiftRH02-700

700000

498

880

8.0

80

170.9

LiftRH02-800

800000

520

940

10.0

80

194.8

LiftRH02-900

900000

580

1000

10.0

80

218.1

LiftRH02-1000

1000000

610

1060

10.0

80

241.6